Morristown, NJ – September 2019
For the 25th consecutive year, the Morristown Partnership is proud to present the Morristown Festival on the Green, with the support of long-standing and new corporate sponsors, community partners and local businesses, on Sunday, September 29th from noon to 5 pm, rain or shine.
Once again, the event will offer a wide variety of entertainment and activities for all ages.
"This momentous anniversary year promises to be our best yet to showcase Morristown's bustling community, unique historic setting and its wide range of outstanding restaurant, retail and service businesses," said Karen Roettger, director of development for the Morristown Partnership. "The scene will be set for all ages to come out, enjoy the day and see why Morristown has become the destination of choice for northern New Jersey."
Returning to the stages this year are Joe Bilotti's Heart of Gold Band on the Main Stage (South and DeHart Streets), courtesy of long- time sponsor County College of Morris, as well as the BIG HIX on the Star Stage (Washington Street), courtesy of first-time sponsor Chewsi. Also appearing for their first time at the festival on the Star Stage is the popular party band, Shorty Long & The Jersey Horns.
Pull up a seat at the 3rd annual Morristown Partnership Beer Tent (Schuyler Place) produced in partnership with The Famished Frog and HOPS Craft Bar. Guests 21 and older can enjoy domestic drafts, as well as try one of several IPAs available including Brooklyn Brewery Post Road Pumpkin Ale, Deschutes Black Butte Porter and Revolution Anti-Hero IPA.
For families and the younger crowd, try your luck at the carnival games, courtesy of sponsor Delta Dental of New Jersey. Nearby is the always popular Kids Place – Children's Amusements, this year courtesy of co-sponsors, Kidz World Pediatric Dentistry & Orthodontics and The Pediatric Orthopedic Center. Be sure and stop by The Pediatric Orthopedic Center's tent for a try to "Dunk the Doc" dunk tank! Last but not least, the Family Stage (Morris Street and Dumont Place) is pleased to have entertainment throughout the day including Wallaby Tales, Miss Jolie Music, Polka Dot! and the TropyBand Orquesta.
Hungry? You'll be spoiled for choice with a wide variety of food from local favorites, and event sponsors, George + Martha's American Grille, The Office Tavern Grill and TOWN Bar + Kitchen. Sports fan? Visit the New Jersey Devils Mobile Unit on North Park Place, brought to the event courtesy of Delta Dental of New Jersey. Feeling lucky? 50/50 tickets will be available for purchase at multiple locations including the Morristown Partnership tent (West Park Place – in front of Starbuck. There's truly something for all ages!
Be sure and read all about the upcoming Morristown Festival on the Green, in Sunday, September 22nd issue of The Star Ledger and online at nj.com in the 'Autumn in Morristown' special section.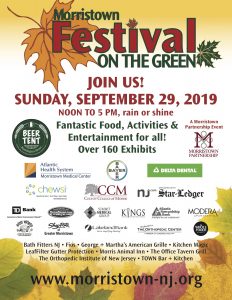 Thank you to our long-standing and new event Sponsors in 2019!
Atlantic Health Systems / Morristown Medical Center, Bayer, Delta Dental of New Jersey, Chewsi, County College of Morris, NJ Advance Media, TD Bank, Beyer Family Automotive Group, Summit Medical Group, Kings Food Market, Atlantic Stewardship Bank, Modera 44 & Modera 55 Apartments, Kidz World Pediatric Dentistry and Orthodontics, Shop Rite of Greater Morristown, Lakeland Bank, The Pediatric Orthopedic Center, Whole Foods Market, Bath Fitters NJ, Fios, George + Martha's American Grille, Kitchen Magic, LeafFilter Gutter Protection, Morris Animal Inn, The Office Tavern Grill, The Orthopedic Institute of New Jersey and TOWN Bar + Kitchen.
Tips for Coming to and Enjoying Morristown Festival on the Green
Where do I park?
The following public lots are open and FREE during the event:
Ann/Bank Street Garage between Bank Street and Schuyler Place
Dalton Parking Garage with entrance on Cattano Avenue
DeHart Street Garage with entrances on Dehart Street and Maple Ave.
Free Street Parking
Exhibitors, Special Venues, Public Restrooms?
See official event map on www.morristown-nj.org
What about the weather?
Morristown Festival on the Green takes place "rain or shine". There is no rain date!
Downtown Morristown Year Round!
Follow the Morristown Partnership on Instagram @downtownmorristown and Facebook @MorristownPartnership and visit our website, www.morristown-nj.org, throughout the year for developing news related to special promotions, commercial space for lease and sale, new businesses, and information on all we do including: Morristown Partnership Gift Certificate Program, Morristown Restaurant Week, Meet Me in Morristown, Morristown Farmers Market, Halloween Trick-or-Treat, and our month-long Christmas Festival at the Morristown Green.