As seen in The Star Ledger / NJ.com, September 22, 2019
By Karen Roettger
In the 1970s, David Balsamini was a young boy with a passion for arcade games.
Back in those days, arcade games were everywhere – shopping malls, movie theatres, pizzerias and the local newspaper and candy stores, to name a few.  PacMan, Space Invaders and Asteroids were just a few of the hundreds, and then thousands, of games in production, and avid gamers crowded arcades, competed for high scores and mastered them one by one.
By the mid to late 1980s, due to the overwhelming popularity of arcades, business operators overbought games and ultimately flooded the market, which led to the inevitable decline of the industry.
But Balsamini's enthusiasm never waned.  Fast forward to the 1990s, by then a graduate of St. John's University and a pharmacist by profession, Balsamini rarely came upon an arcade or fun center without popping in with hopes of finding one of the classic games that he grew up playing 20 years earlier.
One day by chance he read a classified advertisement selling Ms. PacMan, Asteroids and Popeye – classics to an avid gamer – so he rented a truck and, along with his cousin Vinny, two "yutes" headed to Pennsylvania to bring the games home.  And so it began.
In addition to actively seeking out more games to purchase, Balsamini attended conventions and joined other arcade hobbyists for barbecues that often centered around talk of the history and techniques of the games.  He kept his day job as a pharmacist, but spent most of his free time seeking out games to buy, fix and get ready for his dream of opening an arcade.  Soon he had 30 games stored at home, and many more with relatives and in friends' basements, until a storage unit became necessary to accommodate 85 games acquired over 17 years.
In 2015, Balsamini set out to make his dream a reality and find the perfect location for his own arcade for which he already had a name – Game Vault.  Town after town he searched for a location, spoke with officials and gained an understanding of zoning codes.
When he came to Morristown and met with town officials, various business owners and the Morristown Partnership, he knew he had found the right place.
Not only does Morristown boast a diverse population of residents including empty nesters, millennials and families, but a thriving workforce in the tens of thousands, makes it a great place to open a business.  The downtown foot traffic and conveniently located parking decks make Morristown the perfect location for a wide variety of retail, restaurants and service businesses.  The stars aligned for Balsamani when, with the assistance of Morristown realtors 'Team Dougherty', he found the ideal location in a former bank, not to mention an encouraging and supportive landlord.  Morristown Game Vault had found its home.
Opened in 2016, Morristown Game Vault on 22 South St., is a thriving addition to the downtown. Adults who were kids in 1980s now bring their children to share the joy; seven days a week, visitors of all ages come to enjoy 110-plus games including retro video games, pinball machines and TV console games, including an old school Nintendo Entertainment System, N64, SNES and Gamecube.  Notable visitors have included pro golfer, Jason Day and Presidential hopeful, Cory Booker.
At Morristown Game Vault all the games are on free play (no tokens or quarters); visitors receive a wristband and, using a pay-for-time method, are tracked and charged $7 for a half hour / $10 for an hour.  Morristown Game Vault hosts weekly pinball tournaments, a monthly Knockout tournament and even Cosplay nights where enthusiasts dress up as characters from a movie, book or video game.  Engagement photos, wedding day photos and even the throwing of a bridal bouquet have all taken place in recent months along with the influx of summer campers and corporate team-building groups.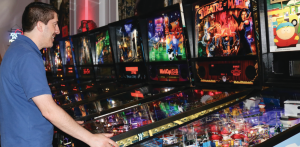 Take a trip down memory lane and join in on the fun at Morristown Game Vault.  You're likely to see Balsamini with his 1970s childlike grin playing his favorites:  Spy Hunter and Iron Man.